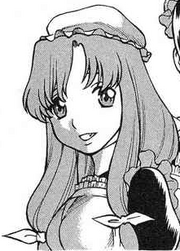 Nero 
(ネロ

?

) is a servant of Mina Tepes, along with Nella and Nelly.
The anime portrays her as a well-meaning bonehead.
Appearance
Edit
Nero has large, forest green eyes and red lips. Her hair is medium length chestnut colored, that's tied into two tails in the front with two blue ribbons, and one identical tail in the back.