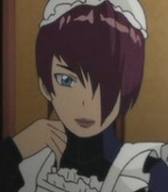 Nella (ネーラNēra

?

)

Voiced by: Akeno Watanabe (Japanese), Terri Doty (English)
Recognized by having her hair covering one of her eyes. She always has a stoic demeanor but is a very caring person. Where after she gave a shot to a boy, notice that she was ordered by Alphonse to bite him in order to turn him into a vampire, which made him cry, she gave him a small teddy bear to make him feel better. She appears to work for Alphonse as well.
Ad blocker interference detected!
Wikia is a free-to-use site that makes money from advertising. We have a modified experience for viewers using ad blockers

Wikia is not accessible if you've made further modifications. Remove the custom ad blocker rule(s) and the page will load as expected.