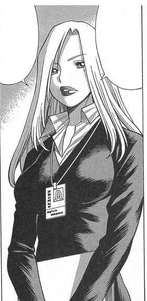 Josée Reiko Gotoh (後藤・ジョゼ・玲子 Gotō Joze Reiko?) Is a counselor working for Shouichi, and the older stepsister of Nicole Edelman.
Appearance
Edit
Josée has light, medium length hair, and has grey eyes, and red lips. She wears a simple button-up shirt underneath a black dress, and dark stockings underneath.
Ad blocker interference detected!
Wikia is a free-to-use site that makes money from advertising. We have a modified experience for viewers using ad blockers

Wikia is not accessible if you've made further modifications. Remove the custom ad blocker rule(s) and the page will load as expected.