Wiki created 16 January 2010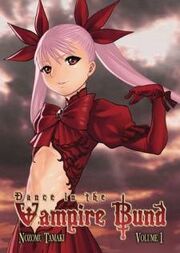 Welcome to Dance in the Vampire Bund, a wiki that encompasses anything and everything involved around the series! Feel free to contribute and grow this wiki! For help please visit these links:
Wikia Tutorial            Wikia Community Central            Help            Helpful Wikia Videos
Dance in the Vampire Bund
Edit
This Wikia site is for the manga and anime series; Dance in the Vampire Bund, and associated media such as: Dive in the Vampire Bund and Dance in the Vampire Bund: The Memories of Sledge Hammer. While this site may need updating and regular help for it's purpose please feel free to add information and pictures. This site also requires help with new pages and requires a scanlation group to help keep all the pages update with the information from the new chapters.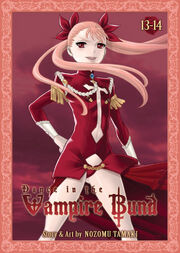 The story revolves around, 
Mina Tepeş
princess-ruler of all vampires, and her protector --
Akira
. Like other vampires, Mina has been in hiding with her people for many years. Seeking to end centuries of isolation, Mina gains permission to create a special district for vampires, 
The Bund
,off the coast of Japan by paying off the entire national debt of the Japanese government. Mina then reveals to the world the existence of vampires and her desire for both races to live together. Tensions, however, run high as fearful humans and extremist vampire factions begin to interfere with Mina's wish for peace with the human world.
Other wikis
Edit